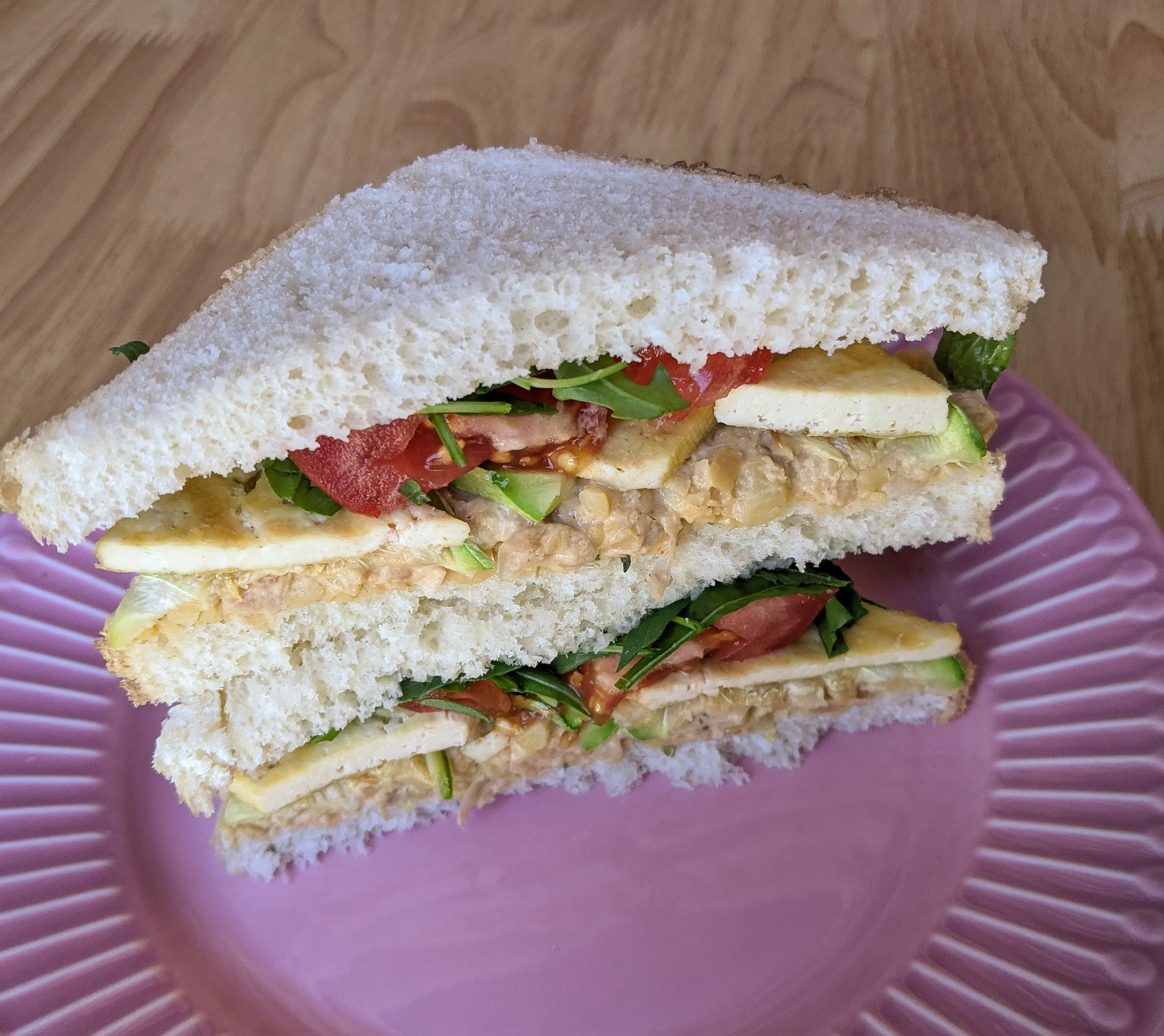 In the mood for a delightful sandwich? This Mashed Chickpeas and Grilled Tofu Sandwich is the perfect choice! Have a couple of them for breakfast, lunch, or dinner, because they are filling, hearty and satisfying. You can make them even more nutritious by using whole wheat bread. If you want to make them 100% whole foods, ditch the mayo, and use more tahini instead.
Both chickpeas and tofu are great sources of protein, so this sandwich is not only delicious but also satiating. Serve the sandwiches with baked potato wedges for a finger-licking experience. Going on a hike? You will thank yourself later for packing these with you – they will give you energy, but won't make you feel sluggish.
Sandwiches are great in the summertime, because you don't need a lot of heat to make them, and you can easily transport them anywhere you are going. Do you have a favorite sandwich? Let me know in the comments!
Mashed Chickpeas and Grilled Tofu Sandwich
Easy-to-make, delicious and filling, these sandwiches are perfect at home or one the go!
Ingredients
100

g

chickpeas

8

zucchini slices

6

tofu slices

4

tomato slices

4

bread slices

1

tbsp

vegan mayo

1

tsp

tahini

sesame butter

½

tsp

lemon juice

¼

tsp

mustard

Salt

pepper

Smoked paprika

Oregano

Arugula
Instructions
Grill or bake your tofu and zucchini slices. If your tofu is not salty, salt it first.

In the meantime, in a deep plate, add your chickpeas, mayonnaise, tahini, mustard, lemon juice, salt, pepper, smoked paprika and oregano. Mash until everything is combined, but it's okay if you still have some whole chickpeas.

Place the composition onto two slices of bread. Add the tofu slices, then the zucchini slices, top it with tomatoes and arugula leaves. Add the last bread slice.

Cut and enjoy!
Recipe Notes
Feeling adventurous? Add some finely chopped red onion and fresh dill to make them even more flavoursome.