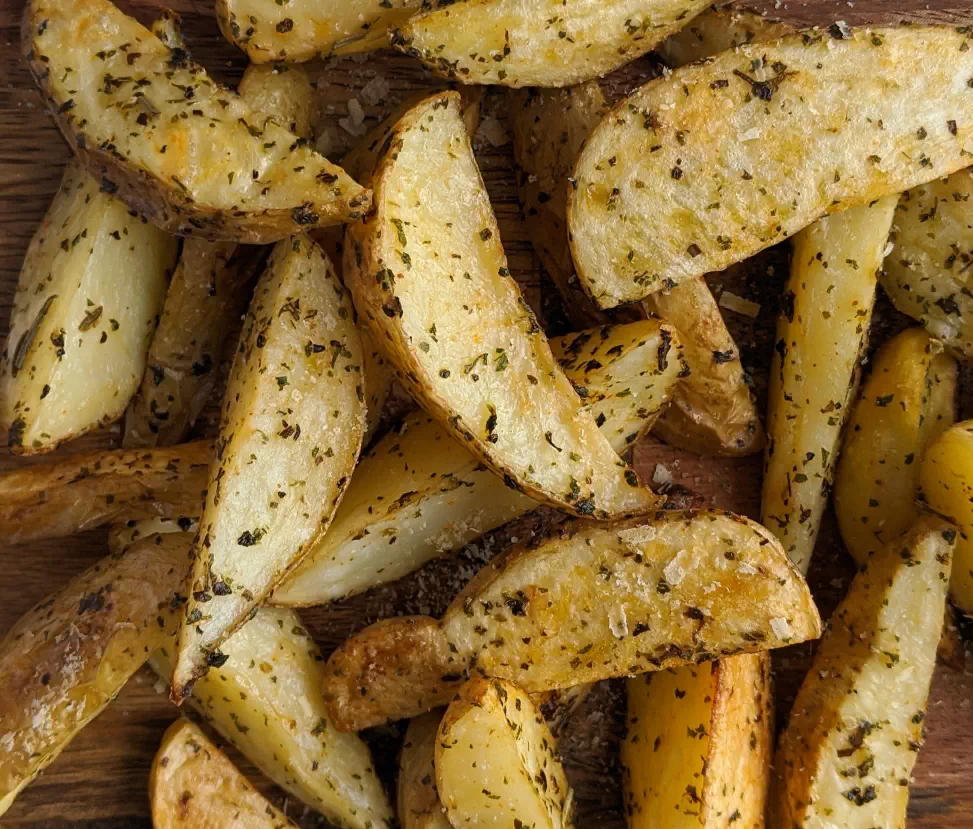 Potatoes – fried, boiled, mashed, in salad, crisps, hash browns, transformed into vodka, used as glue or even as biodegradable plates and utensils. So many uses for such a modest tuber. And so tasty! I don't think I ever met someone who didn't like eating potatoes, cooked one way or another. And small new potatoes are really adorable.
Crunchy and flavorful on the outside, soft and fluffy on the inside, potato wedges are the perfect side dish for a vegan burger or a nice serving of guacamole. Sometimes I like to eat them on their own, with some vegan mayo or ketchup, de-li-cious! In my opinion, potato wedges are a better alternative for french fries cooked in a lot of oil, but just as yummy. When new potatoes are in season, I like to cook them without peeling their skin, after I make sure I washed them really well, but you could also peel them. I cut them in quarters or eights, depending on their size, then I massage them with a bit of oil and spices, and put them in the oven, while I mind my own business. They are a dish loved by the whole family, and the fact that they are so easy to make is a bonus for sure.
Baked Potato Wedges
Flavorful, crunchy on the outside, fluffy on the inside and delicious as a whole, potato wedges are one of the best side dishes!
Ingredients
600

g

potatoes

10

ml

oil

1

tsp

oregano

1

tsp

dried parsley leaves

1

tsp

garlic powder

or 2 minced garlic cloves

½

tsp

rosemary

½

tsp

salt

½

tsp

paprika

a sprinkle of

freshly ground pepper

1

tsp

nutritional yeast

(optional)
Instructions
Preheat the oven at 180° Celsius.

Wash the potatoes really well (and peel them if you want) and cut them in quarters or eights, depending on their size, making sure the slices are not very thick and that they are about the same size.

In a large bowl mix together the oil and the condiments (except for the nutritional yeast), then add the potatoes after you pat them with a paper towel, then massage them until they are covered in the mixture.

Place them on a baking tray lined with parchment paper, making sure the slices don't overlap and put them in the oven. The cooking time might vary from one oven to another, I let them for about 25 minutes with heat coming from below, and another 10 minutes with ventilation and heating from above turned on, to make them extra crispy.

The potatoes are ready when they are crunchy on the outside, but soft on the inside. Now you can add the nutritional yeast if you want, to get a more cheesy flavor. Enjoy!