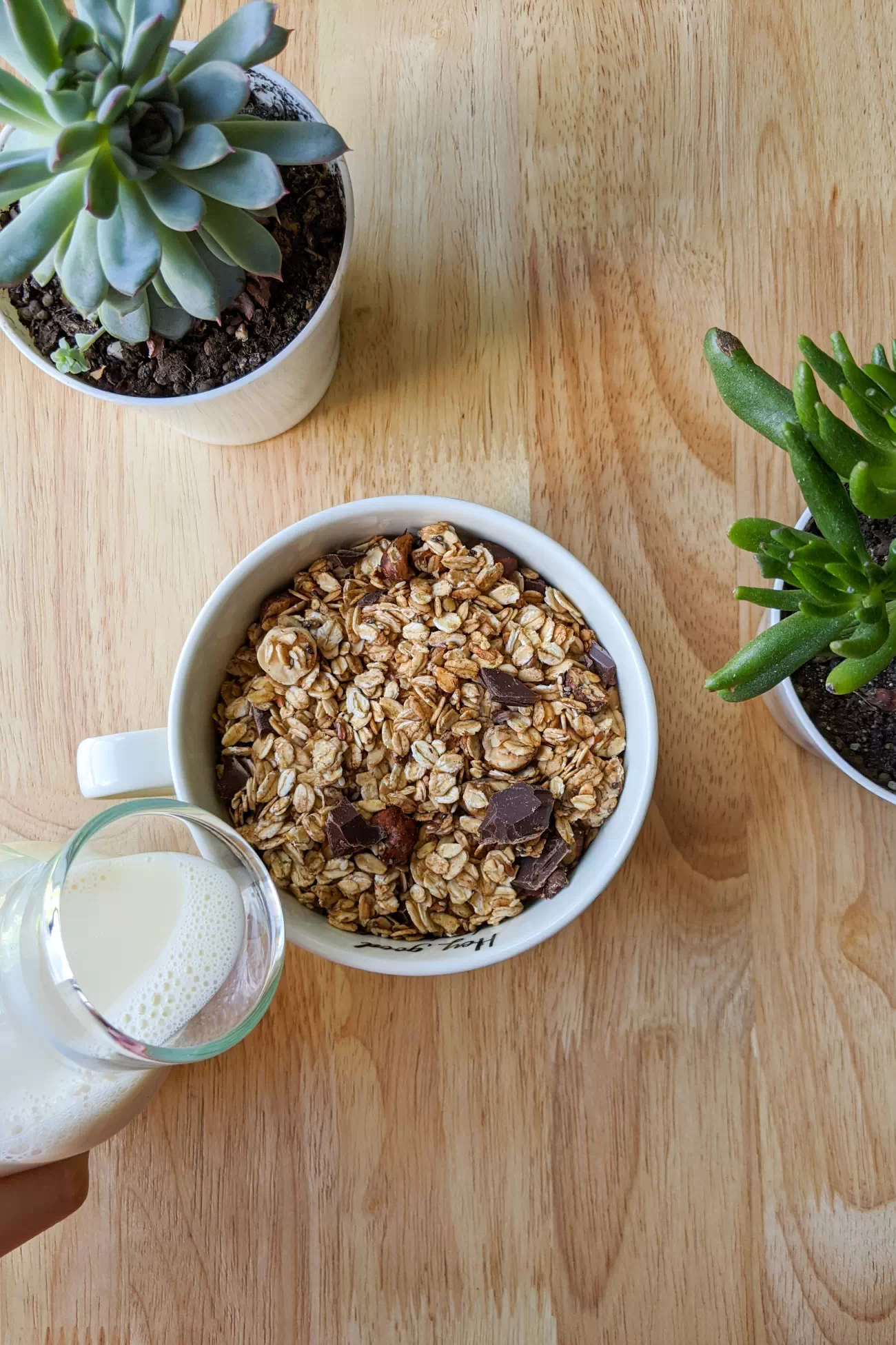 Cereal is a classic breakfast food, so I really wanted to make my own version of granola with all the things I like. Granola is a type of cereal that consists mainly of oat flakes and nuts and seeds, baked until crispy. Basically, granola is the baked version of muesli, and in my opinion, that's what makes it tastier than muesli. It goes really well with some plant milk, some soy or coconut yogurt or even sprinkled on top of a smoothie bowl.
To feel energized the whole day, I like to eat a bowl of cereal with soy milk, topped with any fruit I have in my house. Bananas and blueberries are really yummy in this combo, but sliced apples, fresh raspberries or a couple of dates are just as delicious. As a snack, I like to eat granola straight out of the jar. It's an easy food to nibble on whenever I feel a little peckish.
I like to bake a big batch and keep it in the fridge in an airtight jar, so I can have a quick breakfast each day of the week. The chocolate and hazelnut pair is a winning combination, most people love it, and so do I, for sure! I like adding varied nuts and seeds to get the most out of nature's goodies, and we all know chocolate is good for the soul.
Chocolate and hazelnut granola
A delicious, nutritious breakfast, that is completed to perfection by somy yummy plant milk.
Ingredients
500

g

old-fashioned rolled oats

80

g

hazelnuts

40

ml

maple syrup

or other sweetener

35

g

tahini

or other nut butter (almond, peanut)

25

g

coconut oil

15

g

flax seeds

15

g

chia seeds

15

g

hemp seeds

15

g

sesame seeds

1

tsp

vanilla extract

1

tsp

cinnamon

1

tsp

cocoa powder

75

g

dark chocolate
Instructions
Preheat the oven to 160° Celsius and line your baking tray with parchment paper.

Cut the hazelnuts in halves and add them to a large bowl.

Add the rest of the ingredients to that bowl, except for the chocolate, and mix well.

Pour the granola onto your baking tray and spread it in an even layer. Place it in the oven for about 30 minutes or until it becomes golden and crunchy. Mix it with a spatula after 15 minutes, to make sure it is cooking evenly. I turn on the ventilation and the above heating in the last 10 minutes.

Keep a close eye on your oven, the granola can burn in no time!

Meanwhile, cut the chocolate in small pieces. When the granola is done, take it out of the oven and let it cool, then add the chocolate.

Place it in an airtight jar and store it in the fridge