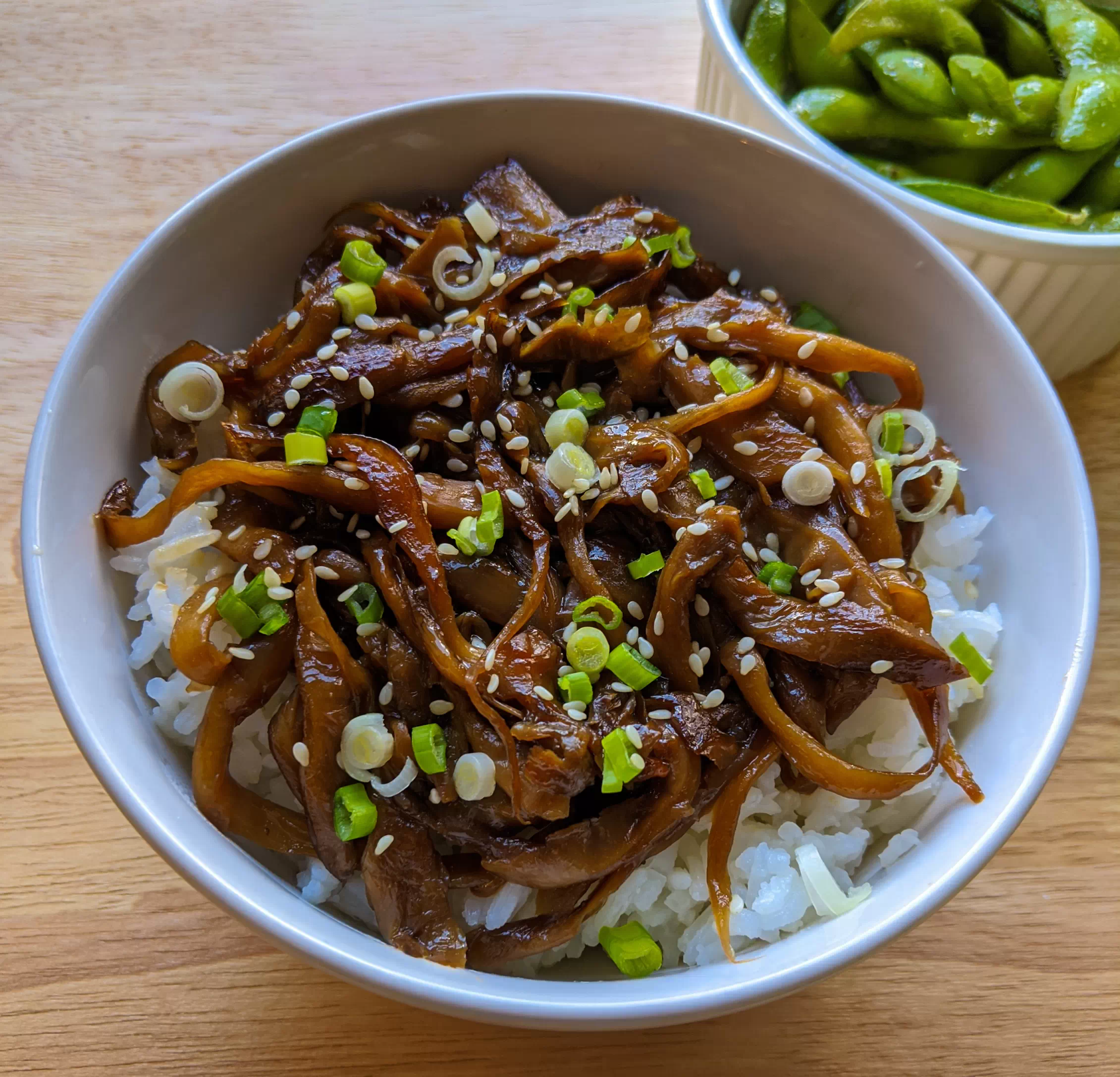 Oyster mushrooms and teriyaki sauce are a match made in heaven for sure! Crunchy sesame seeds and flavourful spring onion slices give this dish a boost of savour and freshness. A bit sweet, a bit spicy, with a captivating soy sauce aroma, this meal is perfect with a nice serving of jasmine rice and some slightly salted edamame pods.
I discovered oyster mushrooms last year and since then I used them a lot in my cooking, but this recipe has to be my favourite! They have a more firm and meatier texture than the common champignon mushrooms and their flavour is amazing. They need a bit more time when it comes to cooking, but this recipe is easy to make and doesn't require too much effort.
The cooking technique, which also gives the name of the teriyaki sauce, comes from Asian cuisine. It consists of covering the ingredients in a luscious soy sauce glaze. This teriyaki sauce is easy to make, you only need a handful of ingredients: soy sauce, brown sugar, white vinegar and some spices. It's delicious in a lot of dishes, from stir-frys to marinated tofu to oyster mushrooms, of course!
Teriyaki oyster mushrooms
Savoury oyster mushrooms coated in a luscious teriyaki sauce glaze.
Ingredients
500

g

oyster mushrooms

10

ml

cooking oil

a

pinch

of salt

1

tsp

sesame seeds

1

tsp

spring onion slices
Teriyaki sauce
70

ml

soy sauce

35

ml

brown sugar

1

tsp

white vinegar

½

tsp

ground ginger

½

tsp

garlic powder

a

pinch of

chilli powder

(optional)
Instructions
Wash the mushrooms and pat them dry.

Slice or tear the mushrooms longwise, so you obtain long strips.

Add the mushroom to a deep pan (or a wok) with a bit of oil and salt and let them cook, stirring occasionally until the water from the mushrooms has evaporated and the mushrooms start to get a golden colour, for about 30 minutes.

Meanwhile prepare the teriyaki sauce, mixing all the ingredients in a small bowl.

When the mushrooms are cooked, add the teriyaki sauce and stir occasionally for another 5 minutes.

Garnish with spring onion slices and sesame seeds and serve with a nice portion of jasmin rice and some edamame pods.