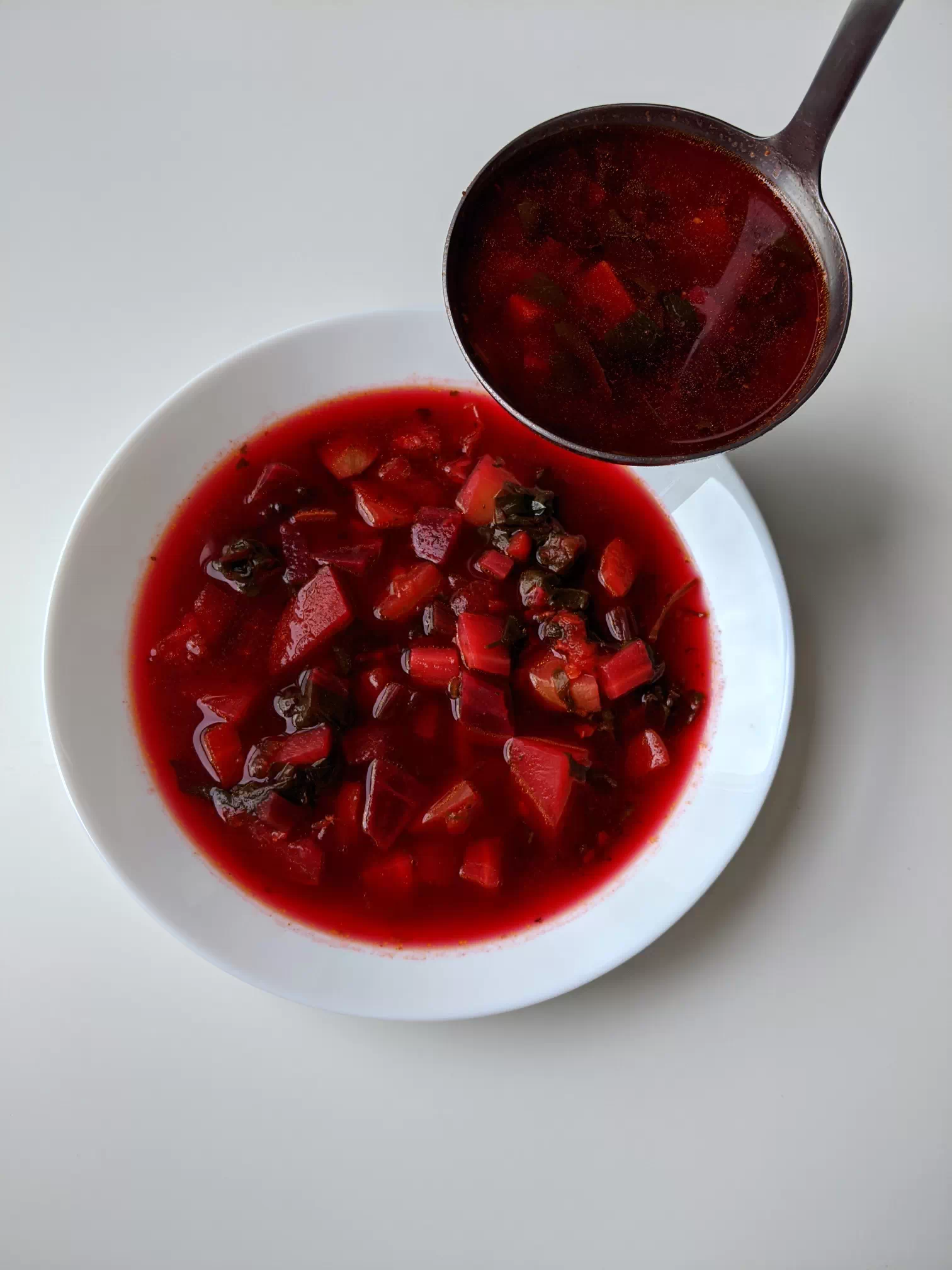 Sour soup always reminds me of my childhood. My grandparents still make their own borsch (a sour, fermented bran liquid that is used in Easter Europe for making sour soup, also known as borsch or "ciorbă" in Romanian) at home, and I am always excited when they give me a bottle so I can make my own sour soup at home. However, this soup recipe is for the moments when I don't have borsch, but I still crave a yummy sour soup, rich in vegetables and flavour.
Chromatically speaking, this beetroot soup is probably the most beautiful dish I ate. It has a stunning magenta colour which makes me want a second serving every time. It is pleasantly sour, abundant in vegetables, being perfect for a hot summer day. I like to eat it cold, straight from the fridge, cooling me down and refreshing my day.
I buy beetroot that has leaves on it, so I can cut them in strips and add them to my sour soup. I love to add new potatoes with their skin on and zucchini, those being the ingredients I'm looking forward to the most when eating my soup. I add carrots, parsnip, tomatoes, a handful of red lentils and I even sneak in some frozen spinach. I also chop some other leaves, depending on what I have at that moment, parsley or lovage, but orach spinach and monk's rhubarb (those two leaves being really appreciated in Romania) would work wonders! I don't usually add onion to this soup, because I want it to be really refreshing, but leek would be really delicious in this combination. The final ingredient is lemon juice, which gives our sour soup the finishing touch.
Beetroot sour soup
A refreshing sour soup, rich in vegetables and flavour, which will paint your hot summer days in a vibrant shade of pink
Ingredients
4

small-medium sized new potatoes

washed really well

3

carrots

2

beetroots with leaves

2

handfuls of

frozen spinach

1

parsnip

1

zuchinni

50

g

red lentil

1

tbsp

sunflower oil

1

tsp

salt

2

tomatoes

1

can

tomato cubes in tomato sauce

1

bunch of

parsley leaves

1

small

lemon

½

tsp

black pepper
Instructions
Cut the potatoes and zucchini in medium-sized pieces and add them to a 5L pot.

Cut the carrots, parsnip, beetroot in smaller pieces and add them to the pot.

Cut the beetroot leaves in thin strips and add them to the pot, with some frozen spinach and the red lentils.

Add enough boiling water to cover all the vegetables, along with the tablespoon of oil and the teaspoon of salt and let it boil over medium fire for 25-30 minutes.

All the vegetables should be cooked by now. Add the tomatoes and canned tomatoes, the ground pepper and the chopped parsley and let it cook for maximum 5 minutes.

Take it from the stove and add the juice of a small lemon. The soup is delicious warm, but it reaches its deliciousness peak when it is cold, straight from the fridge