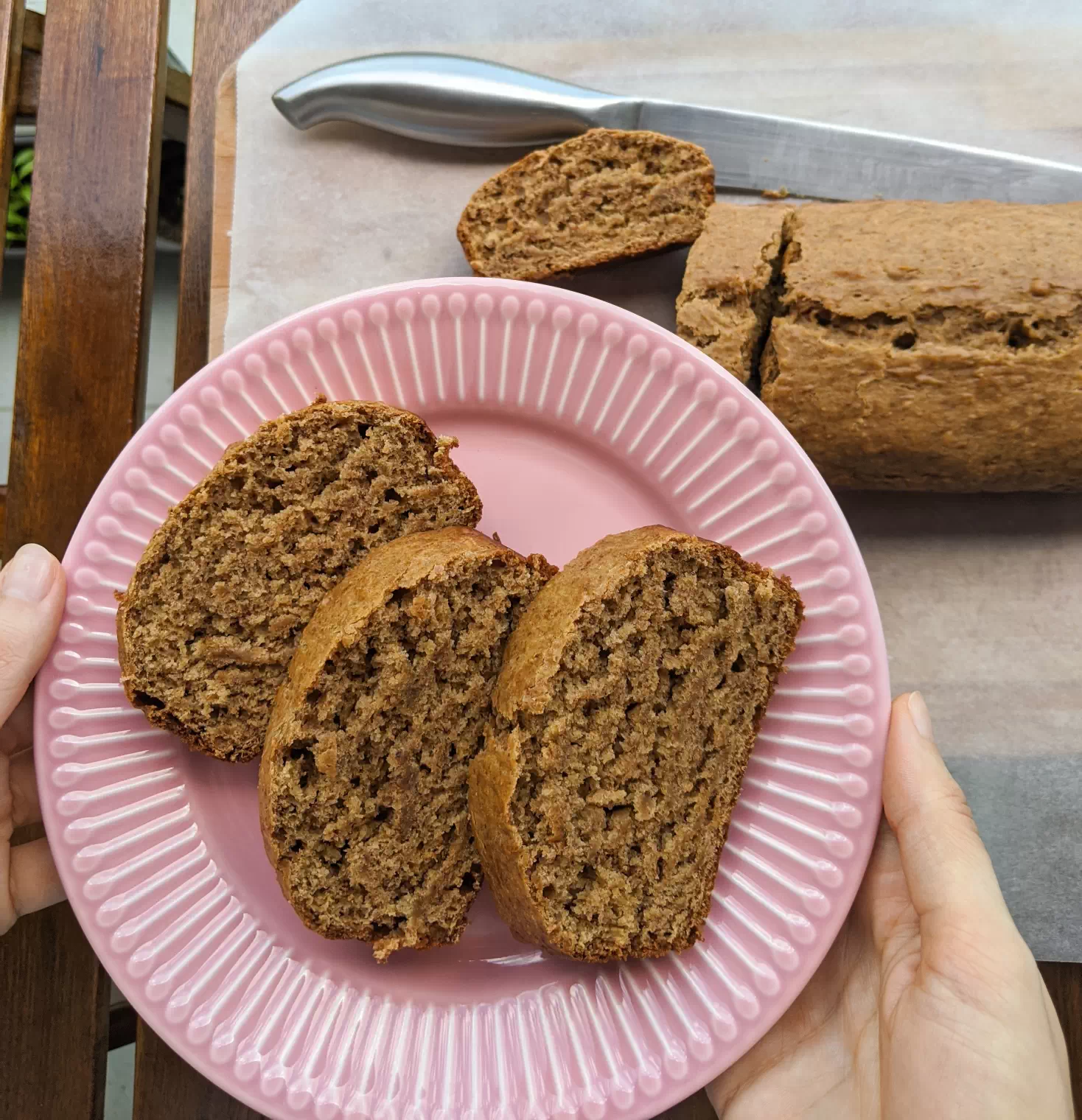 Almond butter banana bread? Yeah, you've heard that right! As if banana bread wasn't already dreamy, almond butter comes in to add an extra layer of deliciousness, making it feel like it's out of this world! Be prepared to get addicted to this easy-to-make, perfectly sweet, delectable banana bread, perfect for breakfast or snacks, that you can serve both warm and cold. Just picture it next to a nice serving of almond vanilla ice cream – the ultimate treat!
Delicious, satiating, and perfect for the moments when you have overripe bananas and want to get them the glow-up of their lives! It's so good I baked it four times in the last two weeks and each time it disappeared until the next morning. And I would have made some more, but I ran out of almond butter. So maybe save yourself some time and double up the quantities to make two loaves instead of one.
Make sure your bananas are really spotty and ripe, so you get their full sweetness. You don't need any equipment for this recipe, just two bowls, an oven, and a loaf pan. In about 45 minutes you will have a delicious banana bread! I find that it is better not to overbake it. Verify it from time to time by inserting a toothpick in its middle: if the toothpick comes out clean, it means it's time to get the bread out of the oven.
Almond Butter Banana Bread
Easy-to-make, perfectly sweet, delectable almond butter banana bread, perfect for breakfast or snacks, that you can serve both warm and cold.
Ingredients
200

g

flour

1

tsp

cinnamon

1

tsp

baking soda

1

tsp

baking powder

a pinch of salt

300

g

ripe bananas

100

g

brown sugar

100

g

almond butter

30

ml

neutral-tasting oil

(coconut oil, sunflower oil)

1

tsp

vanilla extract
Instructions
Preheat the oven at 170° Celsius and grease a loaf pan with a bit of oil.

In a large bowl mix together the flour, baking powder, baking soda, cinnamon and a pinch of salt.

In a separate bowl mash the bananas well using a fork and add the brown sugar, almond butter, oil and vanilla extract. Mix until smooth.

Add the mixture to the first bowl and mix well. It might take some time to get a homogenous batter, but it's worth it!

Add the batter to the prepared loaf pan and add some toppings if you want, like almond flakes, chocolate chips or nuts.

Bake it for about 30 minutes, checking the oven from time to time. You can test if the banana bread is ready using a toothpick to see if it comes out clean when you stick it in the middle. I found it's best not to overbake it.

If you are not eating it all at once (no judgment here) you can slice it and store it in an airtight container in the fridge for a few days.